If your looking for Category:Ninjago click the link.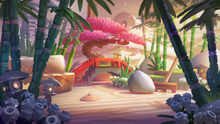 Ninjago has currently 2 sets (Jay's Cyber Dragon and Dojo Showdown), 8 Minifigures (Digi Jay, Great White, Kai (Stone Armor), Lloyd (Possession), Lord Garmadon, Master Wu, Nya (Possession) and Zane (Stone Armor)) and 2 exclusive categories (Spinjitzu and Garma. Army). All Ninjago heroes and sets are Builders.
Notes
The 2 other sets shown for Ninjago, but are unusable are: Set 70732 City of Stiix and Set 70612 Green Ninja Mech Dragon.